CDe / NMTC - Software
One of the most daunting tasks a NMTC allocatee will face is complying with the complex regulations and reporting requirements of the program. Based on feedback from some of the CDEs we spoke with early on, we have developed a comprehensive allocation management system that will make compliance much easier.
The fully integrated web-based software, designed to assist with the day-to-day operations of transactions, automates: the direct tracking of the qualified investor's funds into the CDE and ultimately to the QALICB; the reports necessary to comply with CDFI Fund, IRS, and investor requirements; deadline notifications; QALICB qualification and "substantially all" tests; non-compliance alerts; fund requests and/or "call for cash" letters; integration with the general ledger for daily reporting; and more!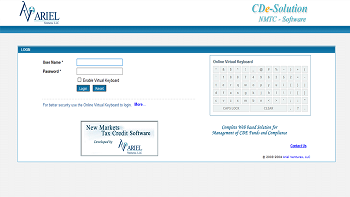 INVENTORY
Inventory management software is a Web based Application for tracking stock levels; purchase orders, sales order and deliveries. It can also be used to create a purchase order and bill of materials. Companies use inventory management software to avoid product overstock and outages. It is a tool for organizing inventory data that before was generally stored in hard-copy form or in spreadsheets. Nowadays companies often use inventory management software to reduce their carrying costs. The software is used to track products and parts as they are transported from a vendor to a warehouse, between warehouses, and finally to a retail location or directly to a customer.
Inventory management software is used for a variety of purposes, including:
Maintaining a balance between too much and too little inventory.
Tracking inventory as it is transported between locations.
Receiving items into a warehouse or other location.
Keeping track of product sales and inventory levels.
Cutting down on product obsolescence and spoilage.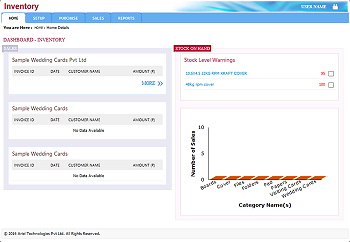 HMS ERP
HMS ERP is a Web based Application; It deals with the collection of patient's information, diagnosis details, etc. Traditionally, it was done by manually. We generate a unique id for every patient and store the details of every patient and the staff automatically. In addition we have a reservation chart to know the current status of each room.
The Hospital Management System can be entered using a username and password. It is accessible either by an administrator or receptionist. Only they can add data into the database. The data can be retrieved easily. The interface is very user-friendly.
The Software includes:-
Book Appointment
Maintaining OPD / IPD Patient details.
Providing Prescription, Precautions and Diet advice.
Providing and maintaining all kinds of tests for a patient.
Billing and Report generation.
Operation Theater Inventory
Common Inventory
Accounting
Payroll